Semarang Ι (29/04/2018) Badan Eksekutif Mahasiswa (BEM) Fakultas Bahasa dan Budaya Asing (FBBA) Universitas Muhammadiyah Semarang (Unimus) menggelar English Festival Ke-5 pada Minggu,  29 April 2018. Bertempat di gedung NRC lantai 4 Unimus festival mengambil tema "Hitch Your Wagon To A Star" . Kegiatan di ikuti 63 peserta dari SMA/SMK se-Karesidenan Semarang dan dari Jawa Barat.
Festival dibuka oleh ketua program studi S1 Sastra Inggris Diana Hardiyanti,  M.Hum mewakili  dekan FBBA.  "Tujuan kegiatan ini adalah syiar Fakultas kepada masyarakat. Sejauh ini respon masyarakat cukup baik terhadap ajang English Festival FBBA" papar Diana. "English Festival diagendakan setiap tahun di FBBA juga sebagai ajang aktualisasi dan berkreasi bagi mahasiswa juga menjadi bekal soft skills mahasiswa sekaligus pencarian bakat pembelajar bahasa Inggris di tingkat SMA" tambahnya .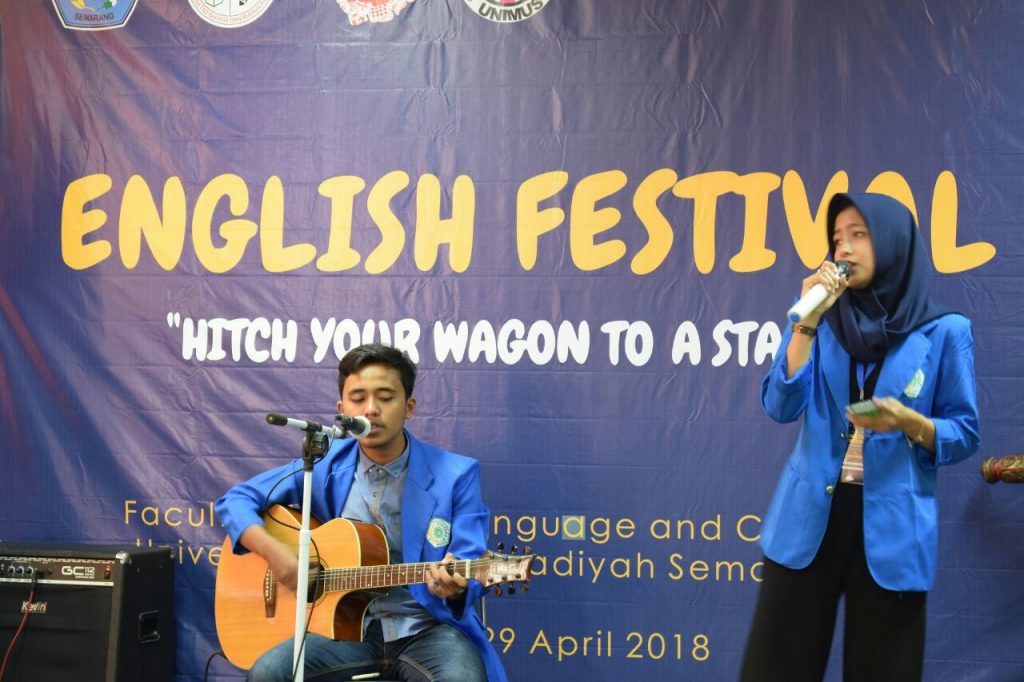 "Acara ini adalah salah satu event besar yang diadakan oleh BEM FBBA setiap tahunnya dan ini adalah tahun kelima. Berkat dukungan dari semua pihak, peserta tahun ini juga meningkat banyak dibanding tahun lalu" kata Siti Sapuroh selaku Gubernur Mahasiswa FBBA. Slamet Sri Puji Rahayu selaku ketua panitia English Festival 2018 menambahkan bahwa English Festival merupakan ajang kegiatan untuk menunjukkan bakat siswa di bidang bahasa Inggris. Melalui English Festival ini mereka dilatih skill berani menampilkan jati dirinya didepan publik. "English Festival 2018 yang bertema Hitch Your Wagon to a star memiliki maksud bahwa mimpi itu sebuah cita – cita yang harus diwujudkan. Melalui kegiatan ini siswa diharapkan dapat mewujudkan cita – cita mereka" tambahnya.
Disampaikan oleh Syifaul, salah satu peserta dari SMAN 3 Demak bahwa ketertatikannya mengikuti English Festival karena temanya yang keren. "Acara English Festival yang di adakan Unimus juga lumayan bergengsi dan seru" tambahnya. English Festival ini dianggap sebagai kegiatan yang sedang Hits di kalangan pelajar karena panitia tidak hanya menyebar poster namun juga menggunakan promosi lewat akun sosial media. Ada 4 kegiatan perlombaan pada English Festival tahun ini yaitu Spelling bee, singing contest, speech contest, dan  story telling. Setiap peserta mendapat sertifikat dan untuk pemenang masing-masing lomba mendapat sertifikat, tropy, dan uang tunai.
Keluar sebagai juara speech contest  yaitu juara 1 diraih Fanny Julia dari SMK 7 Semarang, juara 2 Lusia Devayani dari MAN 2 Semarang, juara 3 diraih Indah Wulandar dari SMAN 1 Guntur Demak. Juara 1 singing contest diraih Celsa Alfreza dari SMAN 9 Semarang, juara 2 diraih Immanuella Alesia dari SMA Theresiana 1 Semarang, juara 3 diraih Nisrina dari  SMK 7 Semarang. Pada kategori lomba  short story telling peringkat 1 diraih oleh Syfaul Ummah dari SMAN 3 Demak, peringkat 2 diraih oleh Ulfa Aulia dari MAN 1 Semarang dan peringkat 3 diraih oleh Linda Amalia dari SMK Muhammadiyah 1 Weleri. Sementara itu pada kategori lomba speeling bee juara 1 di raih oleh J'Hazkel Victora dari SMA Theresiana 1 Semarang, juara 2 diraih oleh Disyon Hizkia dari SMA Theresiana 1 Semarang dan juara 3 diraih oleh Syahda Vania dari SMAN 3 Semarang.
Reportase UPT Humas dan Protokoler