Semarang | 15 Maret 2015
Fakultas Bahasa dan Budaya Asing Universitas Muhammadiyah Semarang (FBBA UNIMUS) menyelenggarakan kegiatan FBBA English Festival 2015. Acara ini berupa serangkaian perlombaan Bahasa Inggris yang diikuti siswa      SMA/SMK/ sederajat sekota Semarang dan sekitarnya dan mahasiswa tingkat prodi UNIMUS.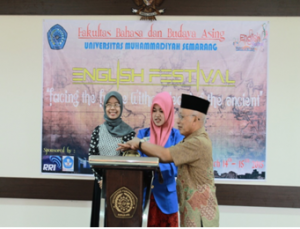 Bertempat di Gedung NRC UNIMUS, ini adalah kali kedua FBBA English Festival diselenggarakan. Tahun ini FBBA English Festival 2015 mengambil tema "Facing the Future without Leaving The Ancient". Tema tersebut diambil sebagai salah satu upaya mengingatkan  kembali sejarah kita, sejarah bangsa kita,sebagai langkah untuk menatap masa depan.Acara tersebut berlang sung selama dua hari.

Di hari pertama tanggal 14 Maret 201 5,kegiatan English Festival dibuka oleh Rektor  UNIMUS, Prof. Dr. H. Djamaluddin Darwis, M.A. Dalam sambutan beliau menyampaikan bahwa beliau sangat mengapresiasi kegiatan ini dan tema yang diambi lsangat menarik yaitu tentang sejarah, karena sebagai pelajar sudah sepatutnya kita tahu sejarah.
Setelah acara pembukaan selesai dilaksanakan dua lomba yaitu Speech Contest dan Short story Telling. Dua lomba ini dilaksanakan dalam satu tempat, peserta tampil secara bergilir dari cabang lomba Speech Contest dilanjutkan ShortStory Telling, begitu seterusnya. Pesertabegitu bersemangat menyampaikan ide – ide dalam berpidato dan fasih bercerita tentang cerita rakyat/legenda Indonesia dengan menggunakan berbagai macam properti yang mendukung.

Di hari kedua lomba yang dilaksanakan adalah English Singing Contest, English Wall Magazine,dan Short Story Writing yang naskah nya sudah dikirim lewat email sebelumnya.English Singing Contesta dalah lomba yang paling menjadi pusat perhatian karena tiap siswa saling unjuk kemampuan dalam menyanyikan lagu berbahasa Inggris.Takhanya Siswa SMA/SMK sederajat  yang menunjukkan bakatnya, mahasiswa UNIMUS  juga melengkapi kemeriahan English Festival 2015 dengan mengikuti lomba English Singing Contest tingkat mahasiswa.
\Selain penampilan peserta dalam berbagai perlombaan, FBBA English Festival 2015,juga dimeriahkan Oleh penampilan juri English Singing Contest yaitu Anjar setiawan dan Jihad featZiad (mahasiswa FBBA).
Kegiatan tak berhenti sampai disitu saja, panitia juga menyelenggarakan seminar kecil mengenai kepenulisan yang diisioleh penulis muda, Amelia Kartikawati yang tak lain adalah mahasiswa S1 Pendidikan bahasaInggris UNIMUS danYunitaNugraheni, S.S., M.Hum dosen S1 Sastra Inggris.Meskipun hari mulai sore namun tak menyurutkan semangat peserta untuk mengikuti seminar.
Hingga tiba diakhir acara sebelum pengumuman pemenang Dekan FBBA Yesika Maya Ocktarani, S.S., M.Hum. menyampaikan terimakasih kepada peserta lomba yang sudah berpartisipasi dan selamat kepada para pemenang sebagai penutup acara. Raut bahagia dan bangga tampak di wa jah para pemenang lomba yang diumumkan secara bergilir. Disisi lain,peserta yang tidak mendapat predikat juara pun ikut senang dapat berpartisipasi dalam English Festival 2015 karena mereka mendapatkan banyak pengalaman.Acara yang diikuti oleh sekitar 60 peserta itu berjalan dengan lancar.
Berikut adalah daftar pemenang lomba FBBA English Festival 2015
Juara I Sitilarasati                                (SMA N 1 Guntur)
Juara II Gifta Felicia S.                       (SMA Nusaputera)
Juara III Muhammad Khoirullah H.   (SMA Islam Hidayatullah)
Juara I Alexandro Daniel                    (SMA Kristen Tri Tunggal Semarang)
Juara II Ahmad Ikhsanudin                (SMK NU Ungaran)
Juara III Ira DewiAyuOktavia           (SMA AgusSalim)
Juara I MuhsinAnis                             (SMA Islam Hidayatullah
Juara II Yudha Putra P.                      (SMK PelitaNusantar 1)
Juara III UswatunKhasanah               (SMA N 1 Guntur)
Juara I SMA Nusaputera Semarang
Juara II SMK PGRI 01 Semarang

Juara I Claudia Jackline Christy         (SMK N 8 Semarang)
Juara II AyulitaMarindia                    (SMK PGRI 01 Semarang)
Juara II Dyah HayuandhanuLintang  (SMK N 8 Semarang)
English Singing Contest tingkat mahasiswa UNIMUS
Juara I Kurniawan (S1 Kedokteran Gigi)
Juara II Gilang Ramadhan (S1 Kedokteran Gigi)